ABOUT US
Artigames is a Peruvian video game development company founded in 2005. It aims to collaborate with the development ecosystem of Peru to establish a precedent in the creation of high quality video games of international interest, with the goal of making the development of video games a solid and profitable industry. Since 2012 we have worked in the training of the next professionals of the industry through our video game development school.
We are the organizers of one of the most important video game development events in Latin America: the COIDEV (International Game Developers Congress) and co-organizers of the Latin American gathering that takes place in the city of San Francisco.
Renzo Sanchez
Head of Studio & Producer
Renzo is an entrepreneur with more than 15 years of experience in the video game industry. He has worked as a programmer, producer, consultant, instructor, and international conference speaker. He is the founder of ArtiGames and EVA (ArtiGames Video Games School), and co-founder of the Peruvian Association of Video Game Developers, APDEVA.
In addition, Renzo has organized international events such as the COIDEV, International Congress of Video Game Developers in Lima, Perú, and the Latin American Meeting in San Francisco, USA. He has promoted technological missions abroad, taking Peruvian entrepreneurs to visit representative companies around the world, such as Electronic Arts, Naughty Dog, Disney Animation Studios, Google, Facebook, Yahoo, Rovio, among many others.
Giancarlo Delle Monache
Creative / Art Director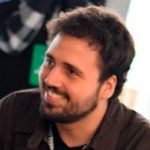 Giancarlo has more than 10 years in the industry and has worked in several of the main areas of a game production. Today, he specializes in direction, production, 3d art and is an essential part in the process of developing Ankalli.
As part of Ankalli's production he has been pioneer working with a vicon motion capture system brought from Mexico for the first time in a project in Perú. He's been invited as a speaker on the most important video game developers conferences in the country and given multiple lectures at universities.
Also, he is an entrepeneur and recently has founded Blum Studios, a game development and art outsourcing company currently producing "Ayllu-Trails of innocence", a 3d sidescroller horror game.